I love buffalo sauce! I have for years after finding a good one, Franks Buffalo Sauce, at the local burger. Sadly they have closed down and I had to find new ways to get my buffalo sauce fix, and thankfully there are a slew of ideas out there. Usually, the Buffalo Sauce we use is Franks, but some of the store branded ones aren't bad either.
Here are a few of my favorite ways to enjoy Buffalo Sauce, besides just dipping chicken nuggets and veggies into it.. lol..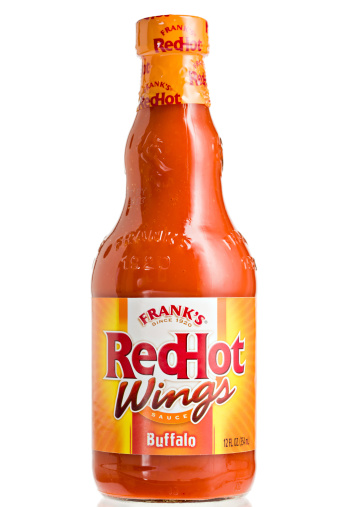 Thank you, Sara, for this amazing recipe that uses Rotisserie chicken, another great use of a Costco Chicken! Buffalo Chicken Rollups aka Wontons is a Pretty simple recipe that I think it's even teenager proof. Take cooked chicken, shred it, mix in some buffalo sauce but not so much! Place on won ton wrappers, add a little blue cheese, wet edges, fold, and bake!
If you love Chicken Burgers, a usual summer grilling go to, Buffalo Chicken Burgers will be right up your ally. They also don't require much of any changes to hte normal gilling routine. Simple Grill your chicken, baste with Buffalo Sauce, top with Blue Cheese crumbles and more buffalo sauce if desired, and again, another simple recipe! BBQ chicken thighs, and then use blue cheese and buffalo sauce as your cheese and ketchup. Very yummy and great with homemade tater tots!
Melissa has a winner with this one, and it makes getting the picky veggie eaters.. men and kids.. to eat a little cauliflower with dinner. This one I was even able to bake in the same oven as the main courses! Buffalo Cauliflower is a great winner in this house with the picky people.
Buffalo Chicken Salad is a great one for using up cooked chicken, salad veggies, and eating healthy. Take your chicken and toss it in some Buffalo Sauce before adding it to your salad greens. Easy-peasy!
Who doesn't love chicken fingers? Yes I realize I am an adult, but I still order chicken nuggets at the drive through! Sally has an easy and fun to make recipe for Buffalo Chicken Fingers that is a great kids cooking activity/helper recipe.
This Buffalo Chicken French Bread recipe is my don't-want-pizza-but-movie-night-meal. It's also a great way to use up day old baguettes and leftover chicken, and another one that Miss GoGo loves to help make.