English muffins are common and really pretty good, however, I like the Toaster Biscuit better. The biggest difference between the two is that Toaster Biscuits has sugar in them, while the English Muffin does not. No big deal, it only adds extra lift and a little sweetness to the final product! I still use them just like you would the English Muffin.. ie in Eggs Benedict, for breakfast with Peanut Butter or Butter and Jam…
Anyways, Miss GoGo and I had time the other morning to make them so we did! It was fun and she likes baking with me which is pretty heartwarming given that I love to bake and cook.. and the less fighting with her is even better! They are simple to make with the only complex part being the ring to bake them in; way easier if you own one but possible with aluminum foil. Even Love likes these and has used them to make breakfast biscuits!
With how simple these Toaster Biscuits are to make, and their versatility.. they are kind of becoming a staple in our house!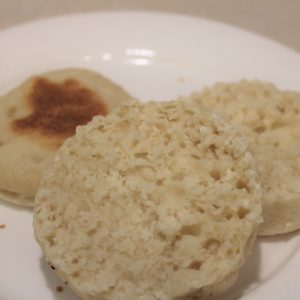 Toaster Biscuits
Like an English Muffin, only slightly sweeter and more airy!
Equipment
Skillet

Crumpet Ring

Bowl

Mixer or Whisk
Ingredients
1.5

tsp

Active Dry Yeast

1 packet

1

tsp

White Sugar

1

Cup

Water

warm, 110F

3

Cups

All-Purpose Flour

2

tsp

Salt

3/4

Cup

Milk

Warm, 110F

2

Tbsp

Vegetable Oil

2

Tbsp

Corn Meal
Instructions
In a small bowl, dissolve yeast and sugar in warm water. Let stand until creamy, about 10 minutes. While yeast is activaing mix togther in a large bowl the flour and salt.

Once the yeast is ready stir in the warm milk, oil, and yeast mixture into your flour. Beat well until smooth. Cover with plastic wrap and let rise in a warm place until doubled, about 60 minutes. Lightly grease or butter the inside of the crumpet rings and dip the rings in cornmeal.

Heat a griddle or frying pan over medium-low heat. Sprinkle cornmeal on the griddle and place the Crumpet Rings on the griddle. Deflate the batter by stirring. Pour 1/4 cup of batter into each ring. Cook slowly for about 8-10 minutes or until pale brown. Carefully remove the rings and turn the biscuits over. Bake on second side about 5-8 minutes or until light brown. Transfer to a rack to cool.

If you don't have crumpet rings, you can make crumpet rings out of aluminum foil. Cut aluminum foil into a piece that is about 5" wide, and the length of your roll. Fold in half lengthwise and then in half again; can fold it one more time for something studier and shorter. Form into a circle that is about 3 1/2 inches in diameter and slide the ends through each other to close the circle. If desired you could add a small piece of tape.